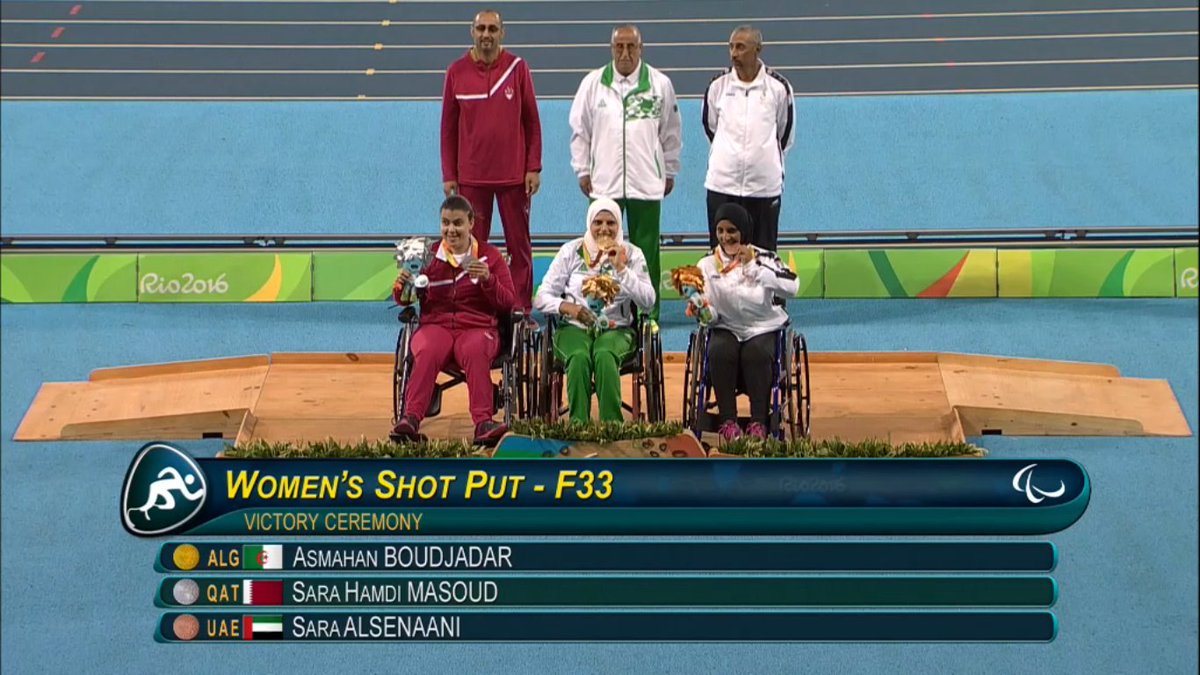 The World Para Athletics season got off to a perfect start in Dubai on Monday as three world records were broken to kick off what should be a phenomenal season.
Asmahan Boudjadar of Algeria broke her own world record in the same venue she set the women's javelin F33 mark one year ago. Not only did Boudjadar break her own record she smashed it, adding 83cm to it to be the first past 12 meters with a throw of 12.82m.
Another F33 world record was broken in the men's discus by Saudi Arabian Hani Alnakhli who absolutely smashed his record. Only one of his throws was fair but the massive 31.03m throw was enough to win gold and add 1.53m to his world record throw from 2015.
The 33 categories continued to have world records broken and the next record broken was in the T33 men's 200m. Kuwaiti Ahmad Almutairi smashed his own world record with a time of 29.35 to claim the record. Despite that Almutairi finished second in the race after it was won by another Kuwaiti in the T53 classification in a time of 27.23.
Namibia managed two gold medals in sprinting with Johannes Nambala managed a simple win in the 200m T13 Nambala won the race with a time of 22.08, finishing well in front of the field. The 200m T11 men's race saw Ananias Shikongo win in a time of 23.50, backing up his title from Rio.
There were two medals for Britain in the women's 200m T20/38/44/47 race with Sophie Hahn claiming the win in 26.57. In third was another T38 classified British athlete as she ran a time of 28.27 to round out the podium.
Britain had a strong night and had four more gold medals on the track, with Zachary Shaw claiming the 200m T12 men's race in 22.93. The T35/36/37 was won by Maria Lyle, who managed to sneak home under 30 seconds. The men's T35/36/42 was a British one-two with Paul Blake winning in 25.73 with Jordan Howe second at 27.31. The British onslaught continued with a James Arnott win in the 200m T44-47 and a surprise win in the T34 200m as Craig Bordman won in 27.84 beating the UAE runner Mohamed Hammadi.
Despite that disappointment the UAE did manage a win in the men's 200m T54 with Marcel Hug vanquished, a rare feet. The home hero was Mohammad Vahdani who managed a time of 25.40 to claim the gold just ahead of Hug. Mohammad Hammadi managed a win in the men's 800m T33/34/53, taking advantage of an absent world champion, manging a time of 1:45.9.
Iran managed a one-two finish in the men's shot put F12/13/20 with Amir Rahmati managing 13.09, for 1061 points. That was enough to edge out his compatriot, Saman Pakpaz throwing longer, 15.34m but his lower classification saw him earn 893 points for the throw.
India continued to dominate the men's javelin F46 with Sundar Singh Gurjar taking over the crown at the top of the event. Gurjar managed an impressive throw of 60.33m, which saw him finish over 10m clear of the field for the gold.
Full results on the first day can be found through the Paralympic website here.